What's driving users to multisensor cameras? (Asmag.com, July 2018)
---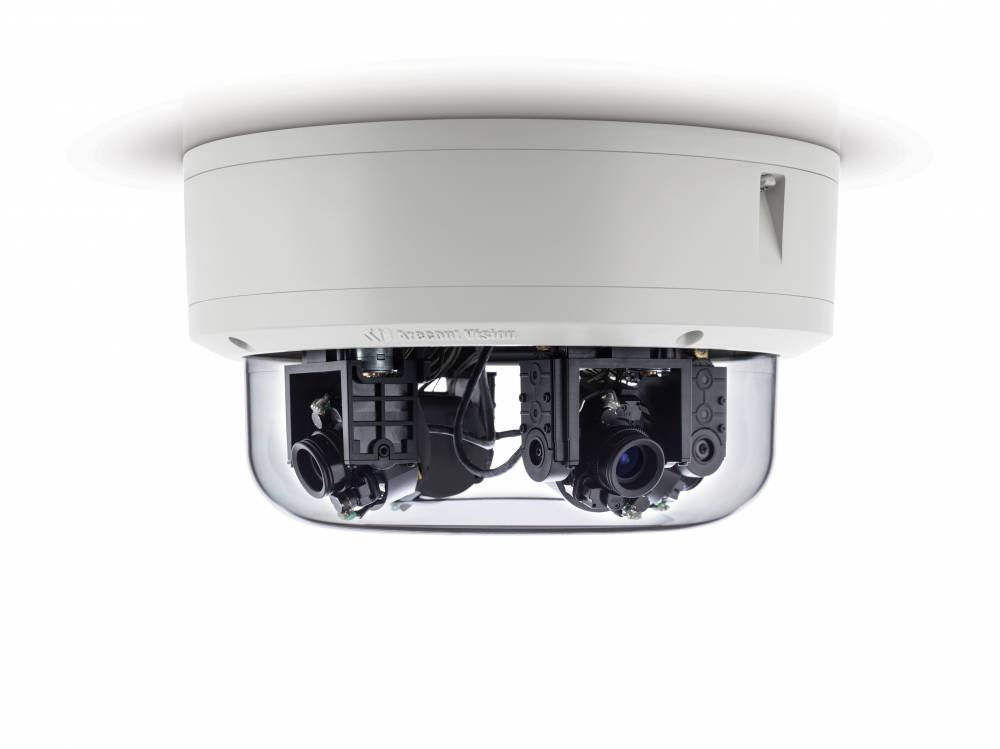 Multisensor cameras have gained increasing popularity among end users due to various reasons. When covering a wide area like a parking lot or warehouse, the user can just rely on one device with multiple sensors instead of purchasing several megapixel IP cameras that will cost more money. Installation and maintenance have also been simplified because of this.
Needless to say, the camera is the most important element in a video surveillance system. Generally speaking, a single-sensor fixed IP camera offers high performance and great resolution, but it has drawbacks, the biggest of which is it covers a narrow field of view, which is a limiting factor when surveilling a wide area. Panoramic cameras overcome this problem by offering 180-, 270- or even 360-degree views of a given area, allowing users to monitor multiple sides all from a single device.
In fact, demands for panoramic cameras are set to increase. A report by Market Research Future forecasted that the global panoramic camera market is expected to reach US$36 billion at a compound annual growth rate of 31 percent between 2016 and 2022. The study cited "high demand for cost-effective cameras to serve the advanced photography market, an increasing digital photography market and increasing demand for safety and security measures in public places as well as in the corporate" as main growth drivers.
Panoramic views can be enabled either by a fisheye camera or a multisensor camera. A fisheye camera comes with a single fisheye lens, which produces a highly warped view of the scene. This leaves multisensor cameras, which include multiple lenses in a single unit, as an ideal choice.
Multisensor cameras can be set up to offer panoramic and multi-directional views. "Panoramic multisensor cameras fully cover a wide field of view. For example, a 180-degree camera can cover an entire street scene, and a 270-degree camera mounted on an outside corner of a building can provide total coverage in that space. These cameras are about providing situational awareness across wide areas. The more advanced cameras here stitch and blend images from the multiple sensors and present you with a seamless view," said Kevin Saldanha, Principal Product Manager for Imaging at Pelco by Schneider Electric.
Alternatively, multidirectional views can also be achieved. "The sensors can be positioned so they point in multiple directions to offer detailed views on several angles in a particular area. They are ideal for areas such as hallways or road intersections, on outer corners of buildings especially in locations such as schools or retail stores," said Olof Leidecker, Global Product Manager for Multisensor and Ultra-High Resolution Cameras at Axis Communications. "If equipped with PTZ capabilities, the cameras can provide wide area coverage as well as detailed close-up images.
Benefits
There are numerous benefits to multisensor cameras. Cost is one obvious factor, as one device can replace three to four in covering a wide area. Meanwhile, the cost of installation and maintenance can also be saved due to the same reason.
"A single multisensor camera, with the ability to zoom into multiple regions of interest, can replace multiple conventional (or separate) units, allowing a return on investment that is easily measurable as fewer cameras, licenses, installation, and required accessories result in lower cost of ownership," said Jeff Whitney, VP of Marketing at Arecont Vision.
"Multisensor cameras are a cost-effective way of providing coverage – you have one hole for installation, one wire to pull and, if done right, one license at the VMS. Typically, they are less expensive than four comparable fixed IP cameras. So acquisition and installation costs are lower," said Saldanha. "They are also easier on the aesthetics of the buildings as they have fewer mount points. You can cover larger areas with fewer camera counts."
Beyond security
In general, multisensor cameras are intended to raise the situational awareness of users whose entities are large and wide. Vertical markets that can benefit include retail, cities, transportation, government, education and hospitals.
However, more and more, these cameras are used for non-security purposes as well, helping end users achieve further business intelligence. "Beyond security, multi-sensor cameras have been proven to decrease shrinkage, resolve staff and customer disputes, provide forensic documentation to build cases, and prevent fraudulent claims, amongst many other applications," Whitney said.
"Analytics for improving operations are also emerging on panoramic multisensor cameras – such as in improving traffic flows in traffic monitoring, tracking customer flows in response to layout or offering changes in retail, banking and gaming," Saldanha said.
Retail, in particular, can benefit. "Multisensor cameras can be embedded with various analytics software to help organizations better deal with various aspects of their business. For example, retailers could use the 180-360 degree vision/view of the cameras to see how customers move around a store, where bottle necks appear and where cash desks are busy, so they can optimize the layout of the shop floor for greater operational efficiency and an improved customer experience," Leidecker said.