Virtua Healthcare System in New Jersey Transitions to Megapixel Video
---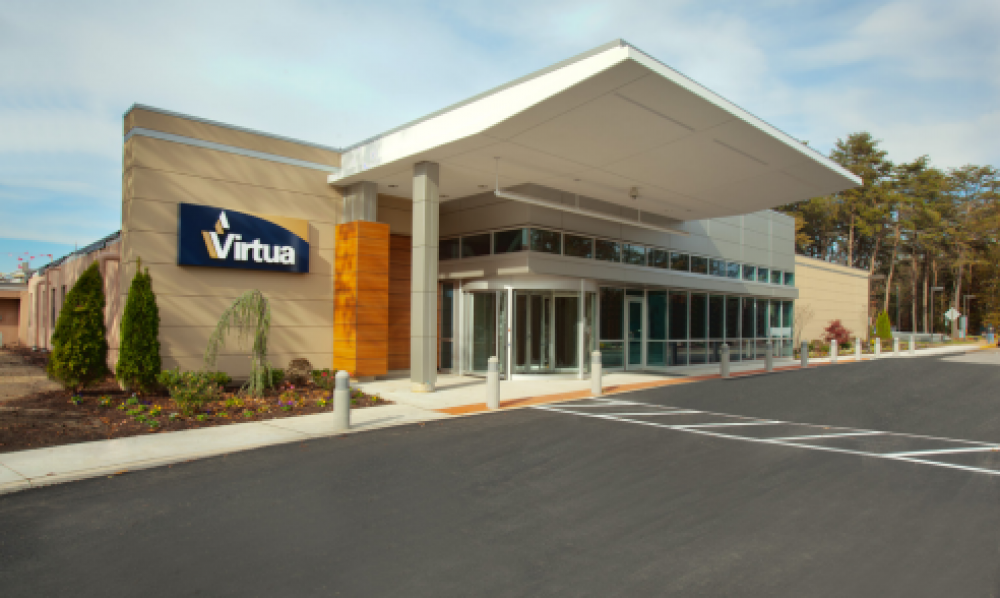 Customer
Virtua is a comprehensive health care system headquartered in Marlton, New Jersey that consists of four hospitals: Virtua Berlin, Virtua Marlton, Virtua Memorial and Virtua Voorhees. The company also owns and operates an ambulatory care center in Camden, New Jersey, and rehabilitation and long-term care centers, home care, physical therapy and mobile intensive care units throughout Burlington, Camden, Gloucester and surrounding counties. Additionally, Virtua operates a health and wellness center in Washington Township, New Jersey with plans to open another in Moorestown, New Jersey, and is in the process of completing a new healthcare campus in Voorhees, New Jersey, which will include a state-ofthe-art digital hospital and outpatient center. All of Virtua's facilities will incorporate the latest technologies designed to ensure quality clinical services, patient safety and privacy within a healing environment.
Challenge
Virtua had already made a substantial investment in analog video surveillance systems at each of its existing facilities to date, but when the company's security management team looked to integrate them under a single control platform, they quickly realized shortcomings relative to video resolution, coverage capabilities and the ability to access usable recorded images. Pan-tilt zoom cameras were installed in several locations to increase coverage capabilities, but these systems required operators to manage the cameras, which further added fixed costs to maintaining the current systems. With the intent of increasing both performance and functionality, Virtua's security management team planned to transition from analog cameras to IP-based network megapixel cameras, using a hybrid approach to support an eventual migration to an integrated networked platform.
Megapixel Solution
Virtua called on the services of CM3 Building Solutions of Fort Washington, Pennsylvania to design and install their new system, as well as local manufacturer's representative, ASR Enterprises, Inc. to assist with equipment selection. After choosing ExacqVision NVRs, Virtua's management team met with various megapixel camera suppliers to review their product lines and to see demos. After extensive testing and analysis, Arecont Vision megapixel cameras were selected for Virtua's new system as a result of their superior resolution, processing power, product selection and use of H.264 compression technology.
New Arecont Vision megapixel cameras added to the security systems throughout Virtua's facilities are connected to ExacqVision's hybrid network video recorders (NVRs). The system design allows for the seamless transition to a networked platform over time, eliminating the need to immediately replace all existing analog cameras. The hybrid recording solution also enables Virtua to immediately capitalize on the performance and cost efficiencies of Arecont Vision megapixel cameras in locations where they are most needed, with the ability to easily integrate additional megapixel cameras over time.
To preserve the integrity of security operations, new Arecont Vision megapixel cameras and ExacqVision NVRs are installed on a dedicated network connected by an NVR server with dual network interface controller (NIC) cards. This method isolates video bandwidth from the hospital's data network until video needs to be viewed via a remote client. The NVRs are installed locally with varying storage requirements based on current camera counts and anticipated future expansion. Virtua's smaller facilities have 2 Terabytes of storage, while hospitals and larger facilities have storage capacities ranging from 8 to 40 Terabytes.
Surveillance and access control systems for Virtua's hospitals, long-term care facilities, health and fitness centers, and corporate business services facilities are monitored centrally at the company's Incident Command Center (ICC) located in Camden, New Jersey. The ICC is the location that also dispatches security personnel to all facilities.
The megapixel cameras used throughout the Virtua system include Arecont Vision models AV8185, AV3155DN-1HK, AV2155 and AV3105. Arecont Vision's SurroundVideo® AV8185 is an 8 megapixel, 180-degree panoramic H.264 IP camera that incorporates four 2-megapixel CMOS image sensors to provide 6400x1200-pixel panoramic images at 5.5 frames-per-second (fps). The panoramic view can also be set at lower resolutions to provide faster frame rates, such as 1600x1200-pixel images at 22 fps or 800x600-pixel images at 88 fps. Low-light sensitivity is 0.2 lux at F2.0. The 180-degree panoramic camera can substitute up to 24 analog cameras. Features include image cropping and up to four regions of interest for forensic examination and digital PTZ.
Virtua also uses 2 and 3 megapixel Mega- Dome® IP cameras from Arecont Vision. Model AV3155DN-1HK is a 3 megapixel H.264 network (IP) MegaDome integrated camera, lens and IP66-rated dome providing 2048x1536-pixel images at 15 fps and 0.2 lux light sensitivity at F1.4. Features of the all-in-one camera include a 1/2" CMOS sensor and Arecont Vision's Mega- Video® image processing at 80 billion operations per second. The camera employs H.264 (MPEG 4, Part 10) compression to minimize bandwidth and storage requirements while maintaining real-time image resolution. Capabilities include motion detection, image cropping, region-of-interest viewing and the ability to zoom into an image after it is archived (forensic zooming). Virtua uses the day/night (DN) model featuring a motorized IR cut filter which is removed in low light conditions to provide in creased sensitivity.
The 2 megapixel Arecont Vision AV2155 MegaDome® has similar features and provides 1600x1200-pixel images at 24 fps, with low-light sensitivity of 0.1 lux at F1.4. Both domes feature a camera gimbal with 360-degree pan and 90-degree tilt adjustments for easy installation. Also used at various Virtua sites is the Arecont Vision's AV3105 3 megapixel box camera, which has specifications similar to the Arecont Vision AV3155 dome.
Megapixel Benefits
The image quality and digital PTZ capabilities of Arecont Vision megapixel cameras far exceed analog and conventional IP cameras allowing Virtua to capture and record extremely detailed video images over large coverage areas. Combined with recent cost reductions in NVR storage and network switches, the use of fewer cameras allows Virtua to transition to high-quality video with the highest levels of cost-efficiency, which translates into lower total cost of ownership and overall higher ROI.
Arecont Vision's megapixel cameras also allow for significant upgrades in system functionality compared to standard-resolution IP cameras. In addition to lower bandwidth and storage requirements, megapixel cameras dramatically decrease costs related to other elements of a system, including fewer software licenses, fewer lenses and a decrease in man-hours needed to install and operate systems. Additionally, Arecont Vision megapixel cameras' ability to provide highly accurate digital PTZ functionality translates into fewer moving parts than traditional PTZ systems, which reduces maintenance costs and the potential for failure.
"Due to the exceptional resolution provided by Arecont Vision's megapixel cameras, and the deployment of several AV8185 panoramic cameras, we have easily expanded our coverage capabilities using fewer cameras with outstanding results," said Paul M. Sarnese, System Safety Director, Virtua Health. "The performance of our new surveillance systems has helped us to improve overall security. It has been a win-win situation for Virtua."
The Arecont Vision system proves its value on a daily basis monitoring more than 4 million square feet of coverage area. After a recent incident at one facility, Virtua's ICC staff reviewed crystal clear megapixel images within minutes and quickly distributed them to security managers and personnel throughout the enterprise for immediate action.
Arecont Vision is the leading manufacturer of high-performance megapixel IP cameras and associated software. Arecont Vision products are made in the USA and feature low-cost massively parallel image processing architectures MegaVideo® and SurroundVideo® that represent a drastic departure from traditional analog and network camera designs. All-in-one products such as MegaDome® and MegaView™ provide installer friendly solutions. Compact JPEG and H.264 series of cameras address cost sensitive applications. These innovative technologies enable Arecont Vision to deliver multi-megapixel digital video at IP VGA camera price points.