Update Your SurroundVideo Multi-Sensor Cameras Free of Charge
---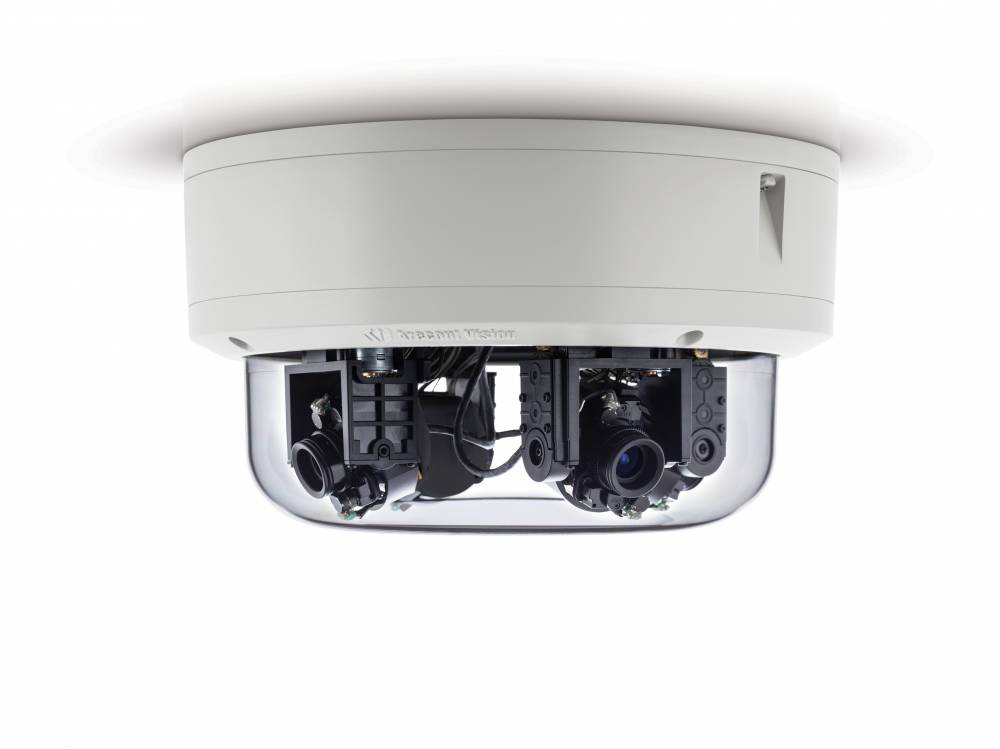 Omni G3 is the industry's first camera with no-touch, remote setup in the multi-sensor adjustable-view product category created and still dominated by Arecont Vision
Arecont Vision, the 2017 'ASTORS' Homeland Security Awards Platinum 'ASTORS' Award Winner for Best IP Video Surveillance Solution, has announced a new SV2 Multi-Sensor Sustaining Release Upgrade for it's SURROUNDVIDEO G5 PANORAMIC & SURROUNDVIDEO OMNI G2 & G3 Multi-Sensor Cameras.
Arecont Vision megapixel cameras are cyber-secure and can be updated with new capabilities as they become available from our Engineering and R&D teams, working in conjunction with our many Technology Partner Program™ members.
All SurroundVideo Omni cameras feature four individual day/night mechanical IR cut filters for the highest image quality at any time of day. Select 12MP models offer Wide Dynamic Range (WDR) up to 100dB at full resolution for challenging or varied lighting conditions.
Participants include vendors of VMS, NVR, PSIM, video analytics, infrastructure, and many more hardware and software products (click to learn more about the MegaLab™ and the Tech Partner Program).
The unique upgrade capability is made possible by use of the FPGA (Field Programmable Gate Array) integrated circuit (IC) at the core of every Arecont Vision camera, which is used by our 5th generation, in-house developed Massively Parallel Image Processing™ (MPIP) architecture.
This same FPGA technology and MPIP architecture are what make Arecont Vision cameras cyber-secure in ways that other surveillance cameras are not.
Learn more about these advanced capabilities only available from Arecont Vision from our cybersecurity and industry-leading technology white papers.
For customers upgrading their Arecont Vision camera, it's almost like receiving an entirely new camera for free, with many new capabilities, features, and enhancements newly added and available.
Without the expense, installation, and time involved with selecting, purchasing, installing, and configuring a new camera also.
Available Now: SV2 Multi-Sensor Sustaining Release
The new SV2 Multi-Sensor Sustaining Release is now available through the Arecont Vision Technical Assistance Center (TAC).
Applicable cameras in the field can be updated with the new SV2 Multi-Sensor Sustaining Release with the assistance of the TAC.
An earlier Single-Sensor Sustaining Release issued in March of 2017 made SNAPstream™ (Smart Noise Adaptation & Processing) technology available to new Arecont Vision cameras plus 140 older models.
Arecont Vision® SNAPstream™ Bandwidth Reduction Technology Supports Multiple New and Existing Megapixel Cameras
SNAPstream reduces bandwidth and storage requirements without impacting image quality.
Other feature enhancements and improvements were also made available in that sustaining release.
What's Included in the SV2 Multi-Sensor Sustaining Release
Exciting new features are added and available for SurroundVideo G5 and SurroundVideo Omni G2/G3 with the SV2 Multi-Sensor Sustaining Release.
Major enhancements, additions, and capabilities include the following:
SNAPstream™bandwidth reduction technology
Multi-stream support improvements
ONVIF Profile S support
White balance improvements (WB 2.0)
New color correction capabilities
Wide Dynamic Range (WDR) improvements
Digest authentication
Port filtering
Cybersecurity enhancements
x support
New, updated web interface
Installing the SV2 Multi-Sensor Sustaining Release
New Arecont Vision production cameras built after 1 December 2017 in each of these multi-sensor series now include the updates in the SV2 Multi-Sensor Sustaining Release, and will start making their way into authorized distribution channels.
Cameras in inventory at Arecont Vision facilities or at authorized distributors can be field upgraded.
The Arecont Vision Technical Assistance Center (TAC) has the necessary files to update your existing cameras, and the expertise to assist you over the phone with the process for a smooth, problem-free installation of the SV2 Multi-Sensor Sustaining Release.
For customers who have installed Arecont Vision sustaining releases previously, the process has been simplified.
An enhanced upgrade method has been developed and is now available using a combined file (hardware + firmware) upgrade (.av), which the TAC personnel will explain when contacted. The TAC team have additional information in order to assist you.
Please contact the TAC to begin the process for validating and then upgrading applicable cameras.
The 2017 'ASTORS' Homeland Security Awards Program
American Security Today's 2017 'ASTORS' Homeland Awards Presentation Luncheon at ISC East was an overwhelming success, with distinguished guests from National, State and Local Governments, and Industry Leading Corporate Executives from companies allied to Government.
Over 100 professionals gathered from across North America and the Middle East to be honored from disciplines across the Security Industry in their respective fields which included:
The Department of Homeland Security
The Department of Justice
The Security Exchange Commission
State and Municipal Law Enforcement Agencies, and
Leaders in Private Security
The 2017 'ASTORS' Homeland Security Awards Presentation Luncheon
Recognized for their Innovative Training and Education Programs, Outstanding Product Development Achievements and Exciting New Technologies to address the growing Homeland Security Threats our Nation is facing.
American Security Today was formed after careful reflection of 9/11 and its aftermath when the Department of Homeland Security was established and there was an immediate explosion of new products and solutions for what was perceived as an imminent second attack on primary targets in the United States.
As time moved forward from 9/11 itself and in recent years, the threats to our nation have evolved from a large scale 9/11 type attack to:
Domestic and International Terrorist Attacks carried out by 'lone wolves' and coordinated individuals
Cybersecurity breach attacks against our government agencies, financial institutions and critical infrastructure facilities
Unprecedented urban violence
Cultural shifts and societal media bias, which make it increasingly difficult to secure our nation in this constantly evolving threat environment.
The 2017 'ASTORS' Homeland Security Awards Presentation Luncheon
These current circumstances have put forward another rapid expansion of new ideas, products and solutions to combat these ever changing challenges.
These changes have called for a new generation of security experts in the Homeland Security and Public Safety fields who need real time knowledge of our ever growing threats.
These experts include the Government at the Federal, State and Local levels as well as from Private Firms specializing in Physical Security, Port Security, Law Enforcement, First Responders, Military and Private Security responsible for implementing coordinated security measures to ensure our Nation's Security and improve Public Safety.

Together, each of these entities work together seamlessly on the front lines of protecting our communities, to 'Keep our Nation Secure, One City at a Time.'
AST focuses on Homeland Security and Public Safety Breaking News, the Newest Initiatives and Hottest Technologies in Physical & IT Security, essential to meeting today's growing security challenges.
To highlight the tremendous accomplishments of agencies and firms receiving this prestigious award, be on the the lookout for American Security Today's Annual December 'ASTORS' Champions Edition – 'Year in Review.'