Security Execs Share Urgent Issues and Potential Surprises for 2018
---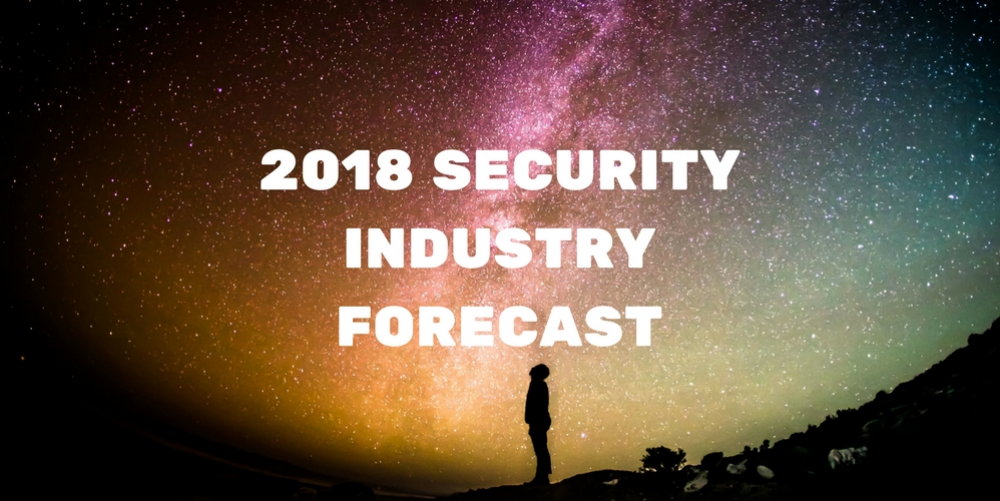 While it's fair to say the security industry is prospering overall, it still has a handful of urgent issues that need to be addressed. Top executives from the industry shared these issues, as well as surprises that may be in store for 2018.
"The industry has just begun to respond to the growing cybersecurity threat. Much more will be required in the way of end user and security practitioner education and training." — Jeff Whitney, Arecont Vision
"Fostering diversity in the security industry. This requires a renewed effort by men and women in the industry, media representatives and trade organizations." — Don Erickson, SIA
"Until we're able to market our industry — how we play in the smart home, smart building, smart city sandbox — we're going to struggle to recruit younger generations." — Angela White, ESA
"The merging of cyber and physical security into a single platform." — Brian Grainger, Spectra Logic
"Net neutrality is now becoming a significant problem. Many of the newest feature sets rely on the Internet to work." — Morgan Hertel, Rapid Response Monitoring
"Will more professional dealers embrace connected home as a go-to market approach vs. security only? How can we help consumers understand the value a professional dealer and professionally monitored solution provides?" — Alice DeBiasio, Honeywell
"Storage solutions that were once common for surveillance can no longer handle today's huge growth in data, from a performance, scalability and cost perspective." — Brandon Reich, Pivot3
---
Related:
2018 Security Industry Forecast: Pros Face Crossroads of Cloud, IoT, AI & Cybersecurity
---
"New providers will continue to disrupt the industry. The danger is traditional companies that joined the 'race to the bottom' with low-cost systems and monitoring will erode their revenue stream." — Mitch Reitman, Reitman Consulting
"Giving away the store to compete on low price. Devaluing your service and our industry is a result of fear." — Bob Harris, Attrition Busters
"The reliability and availability of equipment that could fail due to accidental or malicious actions will have to be correctly engineered from the start. Retrofitting systems is not easy and fraught with potential mistakes." — Pierre Racz, Genetec
"A lack of standards continues to prevent true platform integration among product categories and manufacturers." — Mike Bradley, ECD Systems
"We've got good physical security now, but on the IT and cybersecurity side we continue to see more and more attacks. The challenge is finding a gold standard." — Peter Boriskin, ASSA ABLOY
"The growth of IoT has security customers seeking solutions to move their data to a Cloud-based database. But there needs to be a step between traditional and Cloud-based methods, which is probably three to five years down the road." — Jason Ouellette, Tyco/JCI
"It may be a challenge for mainstream security companies to rapidly adapt and also reshape their business models to address offering more professionally monitored DIY systems; and with this may come pricing pressures on monitoring." — Jorge Hevia, Napco Security Technologies
"The investment in penetration testing and hardening offerings will be a herculean effort. The arrival of nonsecure IoT devices on secured networks is a challenge." — Mitchell Kane, Vanderbilt Industries
"Low-margin equipment sales and manufacturers attempting to sell direct to end users is a challenge. We will need to continue to keep systems integrators as the focal point for manufacturers, and drive product sales through them rather than showing up for an installation and finding out the products are already purchased." — Chuck Wilson, NSCA
---
Related:
2018 Goals: Here's Why Measuring Your Attrition Should Be a Priority
---
"Securing all IoT devices: Many installed IoT devices were not designed with security in mind or come with factory-configured passwords that end users do not update." — Jim Devries, ADT
Surprise! Surprise! Surprise!
Here's what execs say may catch the industry off guard in 2018…
"Unresolved security threats raise the importance of security to board level concerns to be addressed." — Jim Devries, ADT
"A substantial national investment in infrastructure improvements within each component of assets such as ports, dams, government buildings, transportation systems in 2018 by Congress could not only release billions in dollars in spending for construction and retrofit projects, but also create regulations that require security directors to meet new security compliance requirements." — Don Erickson, SIA
"Our industry is in the spotlight. Especially in the home, unforeseen companies are entering the market and disrupting. Surprisingly, there are more surprises coming!" — Angela White, ESA
"The sheer amount of storage required for them to do every aspect of their job. A city in California recently did the math: for eight frames per second on 4K video cameras with a two-year retention requirement, they needed 20 petabytes of storage." — Brian Grainger, Spectra Logic
"How fast consolidation could happen, making some companies quickly become irrelevant. This shows the importance for integrators and distributors to choose the right partners for their business." — Fredrik Nilsson, Axis Communications
"Players from outside the industry are going to make a real move into security with new concepts and services. Price points are going to get challenged and new offerings are going to debut. Traditional dealers are going to have to pay attention and adapt quickly. Additionally, dealers need to understand that cellular networks are going to be ever-changing. Planning and budgeting needs to be done far in advance." — Morgan Hertel, Rapid Response Monitoring Services
"The commercial side will be surprised what they can glean from residential, and the residential side will see opportunities in increased affordability from the commercial side." — Peter Boriskin, ASSA ABLOY
"Commercial security companies may be in competition with some more aggressive cities and municipalities that seek to monitor systems themselves, for a new tax base and to offset an onslaught of the maturing pensions of Boomers, etc." — Jorge Hevia, Napco Security Technologies
---
Related:
How to Utilize Security Apps to Optimize RMR
---
"The magnitude and potential damage of insider cybersecurity threats might very well take our industry by surprise." — Pierre Racz, Genetec
"I'm surprised by the number of large, well-known manufacturers finally realizing that limited distribution trumps signing up anyone who can fog a mirror. Seeking out these enlightened few presents opportunity for dealers willing to create true partnerships and accelerate growth." — Mike Bradley, ECD Systems
"The price point of consumer-grade analog video surveillance equipment able to output 4K resolution is likely to drop significantly as unit shipments in the professional market increase." — Jim Dearing, IHS Markit
"Professionals' security systems aren't quite as secure as they thought. Weaknesses include default passwords and engineering backdoors on cameras and devices never set up properly. A thorough penetration audit will help expose vulnerabilities that can be used to create a remediation plan." — Mitchell Kane, Vanderbilt Industries
"It depends on where they operate. In states like California, with Prop 51 funding available, we will see great opportunity is schools; in other states, we may still have funding shortages." — Chuck Wilson, NSCA
"Customers' requirements to buy in nontraditional methods might find some security professionals unprepared. They need to start a business practice around 'X-as-a-service,' or Cloud offerings, something the end customer can digest as a monthly operating expense rather than a capital expense." — Christie Hamberis, ScanSource Networking & Security


Source: https://www.securitysales.com/news/security-urgent-issues-surprises-2018/