One Costar Initiative Launched to Better Serve Customers
---

Costar Technologies, Inc. has launched an exciting new initiative to better serve our customers as a single, agile, and responsive organization to maximize our corporate and business unit strengths and resources.
Through One Costar, we'll continue to design, develop, sell, and support the familiar video surveillance products offered by AV Costar, CohuHD Costar, Costar Video Systems, and our other business units. We'll be integrated as a company as never before, providing innovative and effective solutions available from the Costar sales team and our partners.

As you follow us online or engage with our pre-sales, sales, & technical support teams, you'll be hearing and seeing many more details about this initiative and the promise it offers to customers and partners alike as implementation moves ahead.
The Four Pillars of One Costar

One Costar is an initiative being implemented across all aspects of our businesses. It is built upon four key pillars that will lead to an agile, even more responsive Costar company with a super-charged organization that offers innovative products & solutions and is backed by superior customer support.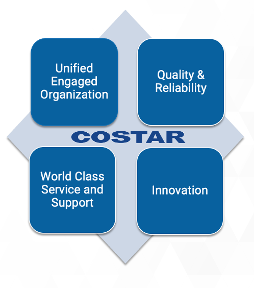 By creating a truly Unified Engaged Organization, we gain the best from our highly-skilled, knowledgeable, and committed team throughout the Costar companies, able to meet and exceed customer expectations every day. We've empowered our team across the organization and given them better tools to get the job done, including Oracle NetSuite. The new ERP system is already providing important insights into our business with accurate, timely data for informed, appropriate decisions to address the ongoing needs of our customers.
World Class Service & Support is a key pillar of our business, now backed by a comprehensive set of improved tools and streamlined procedures. We launched Zendesk Customer Support Software as the basis for enhanced support management, to gather customer feedback we can act decisively upon, and provide issue tracking through to resolution. Zendesk also forms the basis for our popular new 24/7 self-service Customer Support Portal and a growing online Knowledge Base of technical, product, and support data for our customers. Combined with new streamlined processes and procedures, our AV Costar and CohuHD subsidiaries were the first of the Costar team to deploy these new tools. As the other Costar businesses come onstream through One Costar, the benefits will reach across the company for maximum customer impact and truly world-class support.
Quality and Reliability are also long-standing hallmarks of the Costar companies. One Costar will continue to enhance our culture and ensure that quality and reliability remain at the forefront of everything we bring to the market. We believe this commitment strongly differentiates Costar from the competition as we constantly strive to improve our products, designs, manufacturing, testing, and global supply chain.
The final pillar of One Costar is no less critical, with Innovation as a core value. Costar is committed to the continued development of bringing customer-proven, award-winning, and genuinely innovative products to video surveillance and industrial video. Innovation continues in our product designs, in how we engage with the market, and in how we work internally to better serve our customers
One Costar Centers of Excellence
A major component of the One Costar initiative is the creation and growth of six "Centers of Excellence" across the company.
Each of our new centers will bring the opportunity for different aspects of enhanced, companywide collaboration and innovation. As we build out the new centers, our customers and partners will benefit from new, focused solutions that address ongoing market requirements and their specific desires in an ever-more agile manner.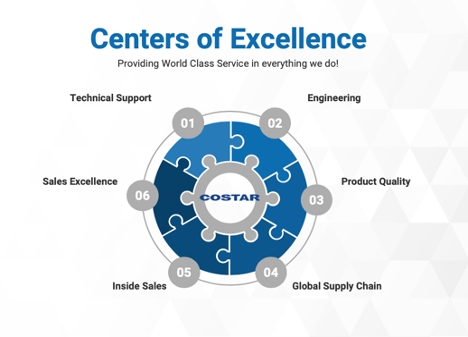 We'll be bringing you more news about our new Centers of Excellence, and how the One Costar initiative is focused on better serving the needs of our customers. While many customers are already seeing the early benefits of the initiative and have been providing us with very useful feedback, there is much more to come.
Please let your contacts at Costar how we are doing, and what we can do to better serve your own needs going forward in earning your business.