AV Costar in the News - January, 2019 - Vol 02, Issue 01
---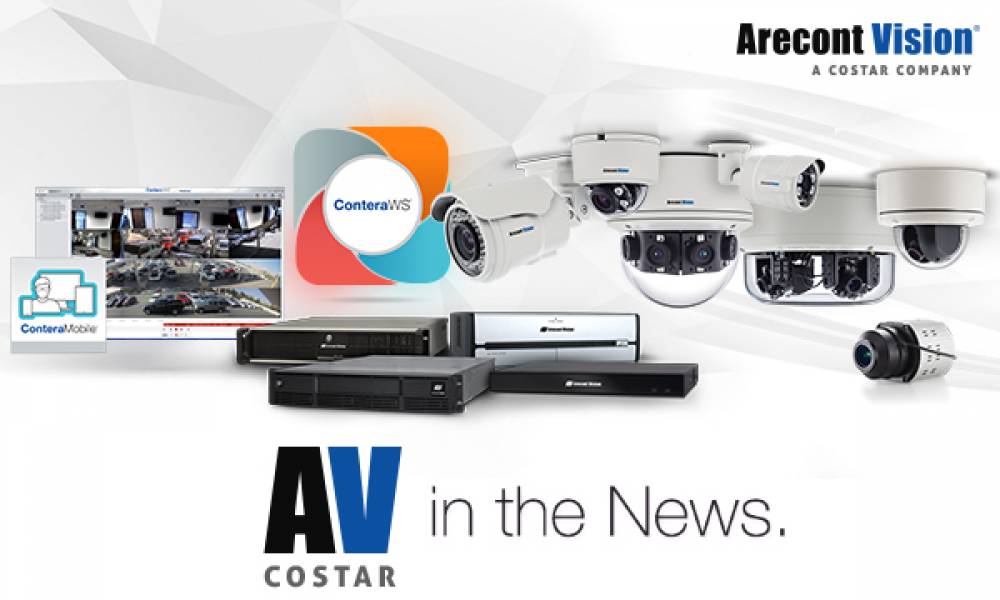 Arecont Vision Costar in the News
Arecont Vision Costar Announces New Hires for Sales and Technical Resources
Security Sales & Integration
Arecont Vision Costar announces the addition of sales and technical resources with two new hires. Matt Bernfeld has been appointed as the regional sales manager for the U.S. Mid-Atlantic Region. Mark Wicinski has joined the company as a field application engineer for the U.S. East and Canada regions...

Read More
Why is Security Needed on Cruises and Ferries?
A&S International
More and more, ferries and cruise ships have become important modes of transportation. Amid their rising importance, the safety and security of passengers onboard has also become critical. Security equipment and solutions, then, can come in handy in this regard...

Read More
Arecont Vision Megapixel Cameras Deployed At Manchester-Boston Regional Airport
Security Informed
Manchester-Boston Regional Airport opened to serve the state of New Hampshire and the surrounding New England community in 1927, a little over two decades after the Wright brother's first powered flight. Located three miles south of central Manchester, the Manchester-Boston Regional Airport is the fourth largest passenger and third largest cargo airport in New England... Read More

The Biggest Stories of 2018
Security Info Watch
As we turn the page on 2018, it is time once again to take a look back at the events that shaped our industry throughout the course of the year. There has certainly been no shortage of significant news over these past 12 months, ranging from the continued consolidation of manufacturers and systems integrators to the emergence of new market entrants and technologies... Read More

Top Ten Security Industry Mergers And Acquisitions Of 2018
Security Informed
Consolidation persisted in the physical security industry in 2018, and big companies such as Motorola, Canon, and UTC continued to make moves. Also among the mergers and acquisitions (M&A) news in 2018 was a high-profile bankruptcy (that ended well), continuing consolidation in the integrator market, and the creation of a new entity called "LenelS2"... Read More

12 Top-Notch Surveillance Cameras Released in 2018
Security Sales & Integration
There is no shortage of quality surveillance cameras out there. It can also be difficult to keep track of all the new devices that are released each year. As 2019 begins, SSI has rounded up a dozen security cameras and camera lines that were released in 2018 that you may have missed or overlooked... Read More

Video Surveillance Crystal Ball: Industry Predictions for 2019
Security Info Watch
One of the popular refrains in the world of entertainment today seems to be, "what once was old is new again," given all of the remakes of popular films and television shows that Hollywood has put out of late. It's a novel concept: introducing a new generation of moviegoers and TV audiences to tried and true characters and stories by giving them a makeover or a new plot twist without having to completely reinvent the wheel... Read More

Arecont Vision Video Surveillance Deployed by Monterey Bay Aquarium in California
Arecont Vision Costar News Blog
Monterey Bay Aquarium has produced significant insights into the life history of sharks, sea otters, and bluefin tuna. The aquarium also was the first to exhibit a living kelp forest, and in 2004 it was the first to successfully exhibit and return to the wild a young great white shark. It is therefore no surprise that the Monterey Bay Aquarium desired the most innovative and state-of-the-art cameras as a key component for its security system, and Arecont Vision was able to deliver what they required... Read More

Want to get off our email list? Click here to unsubscribe.
Review our updated privacy policy
here
.