Arecont Vision SurroundVideo Omni G3 Named a Platinum Homeland Security Award Winner
---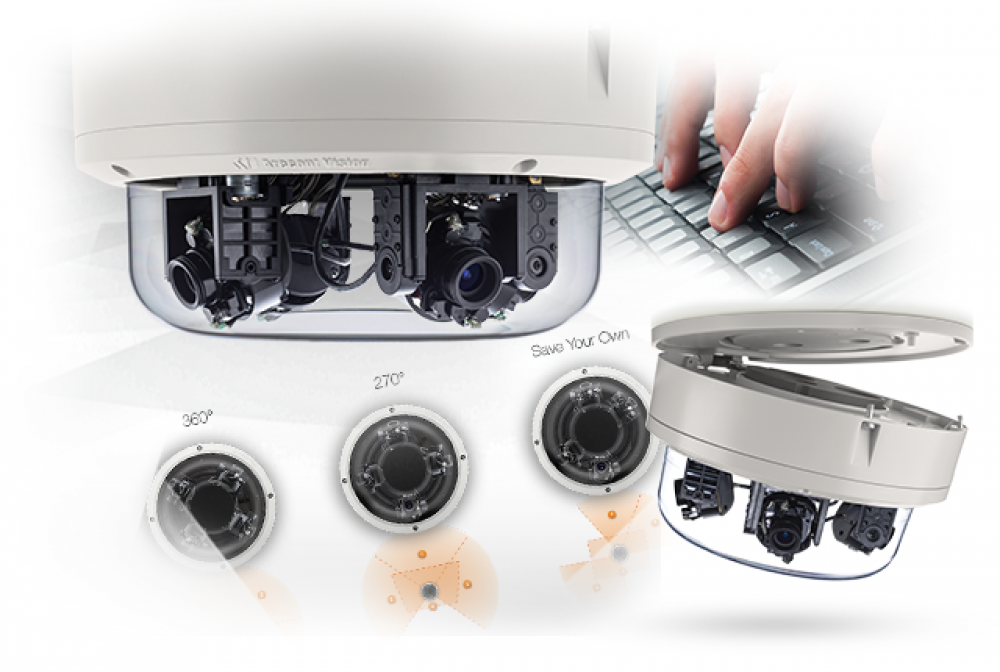 Source:
http://tinyurl.com/y8ywxlpg
Michael Madsen, Publisher of American Security Today, Welcomes the 2017 'ASTORS' Homeland Security Award Winners to the 'ASTORS' Awards Luncheon at ISC East in New York City at the Jacob Javits Convention Center
The 2017 'ASTORS' Homeland Security Awards Program
Sponsored by ATI Systems, Sharp Electronics, Automatic Systems America and Robotic Assistance Devices!
American Security Today's 2017 'ASTORS' Homeland Awards Presentation Luncheon at ISC East was an overwhelming success, with distinguished guests from National, State and Local Governments, and Industry Leading Corporate Executives from companies allied to Government.
Over 100 professionals gathered from across North America and the Middle East to be honored from disciplines across the Security Industry in their respective fields which included:
The Department of Homeland Security
The Department of Justice
The Security Exchange Commission
State and Municipal Law Enforcement Agencies, and
Leaders in Private Security
Recognized for their Innovative Training and Education Programs, Outstanding Product Development Achievements and Exciting New Technologies to address the growing Homeland Security Threats our Nation is facing.
The 2017 'ASTORS' Homeland Security Awards Presentation Luncheon
American Security Today was formed after careful reflection of 9/11 and its aftermath when the Department of Homeland Security was established and there was an immediate explosion of new products and solutions for what was perceived as an imminent second attack on primary targets in the United States.
As time moved forward from 9/11 itself and in recent years, the threats to our nation have evolved from a large scale 9/11 type attack to:
Domestic and International Terrorist Attacks carried out by 'lone wolves' and coordinated individuals
Cybersecurity breach attacks against our government agencies, financial institutions and critical infrastructure facilities
Unprecedented urban violence
Cultural shifts and societal media bias, which make it increasingly difficult to secure our nation in this constantly evolving threat environment.
The 2017 'ASTORS' Homeland Security Awards Presentation Luncheon
These current circumstances have put forward another rapid expansion of new ideas, products and solutions to combat these ever changing challenges.
These changes have called for a new generation of security experts in the Homeland Security and Public Safety fields who need real time knowledge of our ever growing threats.
These experts include the Government at the Federal, State and Local levels as well as from Private Firms specializing in Physical Security, Port Security, Law Enforcement, First Responders, Military and Private Security responsible for implementing coordinated security measures to ensure our Nation's Security and improve Public Safety.
Together, each of these entities work together seamlessly on the front lines of protecting our communities, to 'Keep our Nation Secure, One City at a Time.'

AST focuses on Homeland Security and Public Safety Breaking News, the Newest Initiatives and Hottest Technologies in Physical & IT Security, essential to meeting today's growing security challenges.
To highlight the tremendous accomplishments of agencies and firms receiving this prestigious award, be on the the lookout for American Security Today's Annual December 'ASTORS' Champions Edition – 'Year in Review.'
American Security Today would like to take this opportunity to thank each Nominated Organization, and 'ASTORS' Award Winner for Your Exemplary Service to Our Nation.
Announcing the 2017 'ASTORS' Homeland Security Award Winners
Platinum 'ASTORS' Award Winner
LowCam VI110 Under Vehicle Inspection System
Best Under Vehicle Surveillance System
Silver 'ASTORS' Award Winner
SafeSky Counter UAV System
Best UAV Perimeter Protection Solution
Gold 'ASTORS' Award Winner
AlertEnterprise Sentry
Best Cyber Critical Infrastructure Solution
Gold 'ASTORS' Award Winner
AlertMedia Mass Notification Software
Best IP Mass Notification System
Platinum 'ASTORS' Award Winner
CompuLert NEXGen Central Control Platform
Best Disaster Preparedness, Recovery Solution
The 2017 'ASTORS' Homeland Security Awards Presentation Luncheon
Gold 'ASTORS' Award Winner
CompuLert NEXGen Central Control Platform
Best Mass Notification/Siren System
Platinum 'ASTORS' Award Winner
ANC Non-Conductive Fence System
Best Critical Power Solution
Platinum 'ASTORS' Award Winner
AMIGUARD Perimeter System
Best Security Fencing Solution
Silver 'ASTORS' Award Winner
AMICO Chameleon System
Best Maritime/Seaport Security Solution
Silver 'ASTORS' Award Winner
AMICO Layered Perimeter System
Best Perimeter Protection Solution
The 2017 'ASTORS' Homeland Security Awards Presentation Luncheon
Gold 'ASTORS' Award Winner
Mity-Lite Plus Portable PA
Best Risk, Crisis Management Solution
*A 2016 'ASTORS' Award Winner
Platinum 'ASTORS' Award Winner
Amulet Ballistic Barriers
Best Physical Airport/Aviation Security Solution
Platinum 'ASTORS' Award Winner
Data Forgery Detection Technology
Best Cyber Critical Infrastructure Solution
*Single 'ASTORS' Program Tie
Platinum 'ASTORS' Award Winner
SurroundVideo Omni G3 Adjustable View Multi-Sensor Camera
Best IP Video Surveillance Solution
Platinum 'ASTORS' Award Winner
Gen2 Razor Ballistic Body Armor
Best Personal/Protective Equipment Product
The 2017 'ASTORS' Homeland Security Awards Presentation Luncheon
Platinum 'ASTORS' Award Winner
MassAlert Advanced Software Program
Best Mass Notification/Siren System
Gold 'ASTORS' Award Winner
Attivo Networks ThreatDefend Deception and Response Platform
Best Critical Infrastructure Solution
Platinum 'ASTORS' Award Winner
Attivo Networks ThreatOps Solution
Best Integrated Security Management Solution
Gold 'ASTORS' Award Winner
Attivo Networks

ThreatDefend Deception and Response Platform

Best Intrusion Detection & Prevention Solution
Platinum 'ASTORS' Award Winner
SlimLane Swing Door Security Barrier Optical Turnstile
Best Pedestrian Entrance Control Solution
*A 2016 'ASTORS' Award Winner
The 2017 'ASTORS' Homeland Security Awards Presentation Luncheon
Silver 'ASTORS' Award Winner
XP40-Q1942 Explosion-Protected PT Thermal Network Camera
Best IP Video Surveillance Solution
*A 2016 'ASTORS' Award Winner
Platinum 'ASTORS' Award Winner
Best State Government Security Program
Silver 'ASTORS' Award Winner
Bellevue University Security Management Degree Program
Best Homeland Security Education
*A 2016 'ASTORS' Award Winner
Silver 'ASTORS' Award Winner
Marine Corps Recuiting Information Support System (MCRISS) Recruiter Tool (RCT)
Best Smart Card/Reader System
Silver 'ASTORS' Award Winner
Corporate Emergency Access System (CEAS)
Best Disaster Preparedness, Recovery Solution
The 2017 'ASTORS' Homeland Security Awards Presentation Luncheon
Platinum 'ASTORS' Award Winner
uniFLOW, imageRUNNER ADVANCE, imageWARE Secure Audit Manager Express
Best Access Control & Authentication Solution
Platinum 'ASTORS' Award Winner
Reporty PSAP 911 Emergency Technologies & Mass Notification System
Best Emergency Response for Fed/State/Local Government
Gold 'ASTORS' Award Winner
Zone Protector & Zone Manager Cell Phone Detection System
Best Cell Phone Detection Solution
*A 2016 'ASTORS' Award Winner
Platinum 'ASTORS' Award Winner
Centrify Identity Services
Best Cyber Security for ID Mgmt & Access Control
Platinum 'ASTORS' Award Winner
Smart Card Reading Devices and Keyboards
Best Smart Card/Reader System
*A 2016 'ASTORS' Award Winner
Team Carbyne – at the 2017 'ASTORS' Homeland Security Awards Presentation Luncheon
Platinum 'ASTORS' Award Winner
Claroty Platform
Best Cyber Critical Infrastructure Solution
*Single 'ASTORS' Program Tie
*A 2016 'ASTORS' Award Winner
Platinum 'ASTORS' Award Winner
FiberStrike LCM-Switch Fiber Optic Sensing Systems
Best Motion Detection System
Gold 'ASTORS' Award Winner
Resolve Handheld Chemical ID System for Hazmat, Explosives & Narcotics ID
Best CBRNE Detection System
Platinum 'ASTORS' Award Winner
Code Dx Enterprise Software Assurance Analytics Tool
Best Cyber Security for Application Management
Platinum 'ASTORS' Award Winner
Crotega Interior Threat Suppression System
Best Intrusion Detection & Prevention Solution
The 2017 'ASTORS' Homeland Security Awards Presentation Luncheon
Platinum 'ASTORS' Award Winner
Demisto Enterprise
Best Cyber Security for Incident Management
Gold 'ASTORS' Award Winner
Demisto Enterprise
Best Network Security Solution
Platinum 'ASTORS' Award Winner
Best Critical Infrastructure Solution
Platinum 'ASTORS' Award Winner
Mesmer Counter Drone Solution
Best UAV Perimeter Protection Solution
Silver 'ASTORS' Award Winner
Everbridge Safety Connection
Best IP Mass Notification System
Tammy Waitt, AST Editorial Director, Inspector Akrum Ghadban, Royal Canadian Mounted Police Dog Service Training Centre, and Dr. Kathleen Kiernan, Founder & CEO, Kieran Group Holdings and SameShield
Platinum 'ASTORS' Award Winner
FLIR Griffin G510 Gas Chromatograph Mass Spectrometer (GC/MS)
Best CBRNE Detection System
*A 2016 'ASTORS' Award Winner
Gold 'ASTORS' Award Winner
FLIR PRIMED (Prepare, Recognize, Input, Monitor, Experience, Decision) Online CBRNE Training Video Series
Best Homeland Security Education
*A 2016 'ASTORS' Award Winner
Silver 'ASTORS' Award Winner
Forum Sentry API Security Gateway
Best Access Control & Authentication Solution
Gold 'ASTORS' Award Winner
DURABOOK R11
Best Rugged Computer Tablet
Gold 'ASTORS' Award Winner
Genetec Stratocast Video Surveillance as a Service (VSaas)
Best Video Data Storage Solution
The 2017 'ASTORS' Homeland Security Awards Presentation Luncheon
Platinum 'ASTORS' Award Winner
Aviation Security & Management
Best Airport/Aviation Security Solution
Platinum 'ASTORS' Award Winner
GTL Inspire Tablet
Best Rugged Computer Tablet
Silver 'ASTORS' Award Winner
Mobile IQ/Blended Approach
Best Cell Phone Detection Solution
Platinum 'ASTORS' Award Winner
Physical Security Engineering Training & Certification
Best Homeland Security Education
Gold 'ASTORS' Award Winner
HID PIV (Personal Identity Verification)
Best Integrated Security Management Solution
The 2017 'ASTORS' Homeland Security Awards Presentation Luncheon
Gold 'ASTORS' Award Winner
Guardian Escape System (Self Evacuation & Rescue Solution)
Best Disaster Preparedness, Recovery Solution
*A 2016 'ASTORS' Award Winner
Silver 'ASTORS' Award Winner
CyberVigilant
Best Cyber Security for Incident Management
Platinum 'ASTORS' Award Winner
Ivanti Identity Director
Best Identification Management Solution
Platinum 'ASTORS' Award Winner
Preparedness Without Paranoia™ Approach
Best Homeland Security Consulting Firm
Platinum 'ASTORS' Award Winner
IronKey D300 Encrypted USB Drive
Best Data Storage Security Solution
The 2017 'ASTORS' Homeland Security Awards Presentation Luncheon
Gold 'ASTORS' Award Winner
HID ActivIdentity & AU-211P
Best Smart Card/Reader System
Platinum 'ASTORS' Award Winner
Konica Minolta bizhub SECURE
Best IP Federal Government Security Program
Platinum 'ASTORS' Award Winner
Konica Minolta bizhub SECURE
Best IP State Government Security Program
Gold 'ASTORS' Award Winner
MOBOTIX Thermal TR with MxActivity Sensor and 6MP Moonlight Technology Lens
Best IP Video Surveillance Solution
Gold 'ASTORS' Award Winner
MOBOTIX Thermal TR with MxActivity Sensor and 6MP Moonlight Technology Lens
Best Perimeter Deterrent System
The 2017 'ASTORS' Homeland Security Awards Presentation Luncheon
Gold 'ASTORS' Award Winner
Lieberman RED – Rapid Enterprise Defense Suite
Best Cyber Security for ID Mgmt & Access Control
*A 2016 'ASTORS' Award Winner
Platinum 'ASTORS' Award Winner
LRAD 950RXL Long Range Acoustic Hailing System (AHD)
Best Long Range Acoustic Hailing System
*A 2016 'ASTORS' Award Winner
Silver 'ASTORS' Award Winner

LRAD DS-60XL

Customizable P.A. & Mass Notification System
Best Mass Notification/Siren System
*A 2016 'ASTORS' Award Winner
Gold 'ASTORS' Award Winner
Stingray Unmanned Underwater-Vessel (UUV) Interceptor
Best Maritime/Seaport Security Solution
*A 2016 'ASTORS' Award Winner
Platinum 'ASTORS' Award Winner
Proscreen 500
Best Cell Phone Detection Solution
Michael Madsen, AST Publisher, Cliff Quiroga, VP, Robotics Business Development, Sharp INTELLOS, and Alice DiSanto, Director of Marketing, Sharp INTELLOS
Platinum 'ASTORS' Award Winner
NeoFace Express
Best Biometric Recognition System
Platinum 'ASTORS' Award Winner
Netwrix Auditor
Best Cyber Auditing & Compliance Solution
*A 2016 'ASTORS' Award Winner
Platinum 'ASTORS' Award Winner
NICE Inform Elite
Best 911 Recording & Analytics Solution
*A 2016 'ASTORS' Award Winner
Platinum 'ASTORS' Award Winner
NopSec Unified VRM
Best Cyber Security Solution Provider
Platinum 'ASTORS' Award Winner
MEOSAR Search and Rescue (SAR) Satellite Ground System
Best SAR Satellite Ground System
The 2017 'ASTORS' Homeland Security Awards Presentation Luncheon
Platinum 'ASTORS' Award Winner
PC Matic
Best Anti-Malware Solution
Platinum 'ASTORS' Award Winner
ARES Insights
Best Video Analytics Solution
*A 2016 'ASTORS' Award Winner
Gold 'ASTORS' Award Winner
ARES Viewer
Best License Plate Recognition System
*A 2016 'ASTORS' Award Winner