Arecont Vision® Increases Infrastructure Solutions in Technology Partner Program with Pivot3
---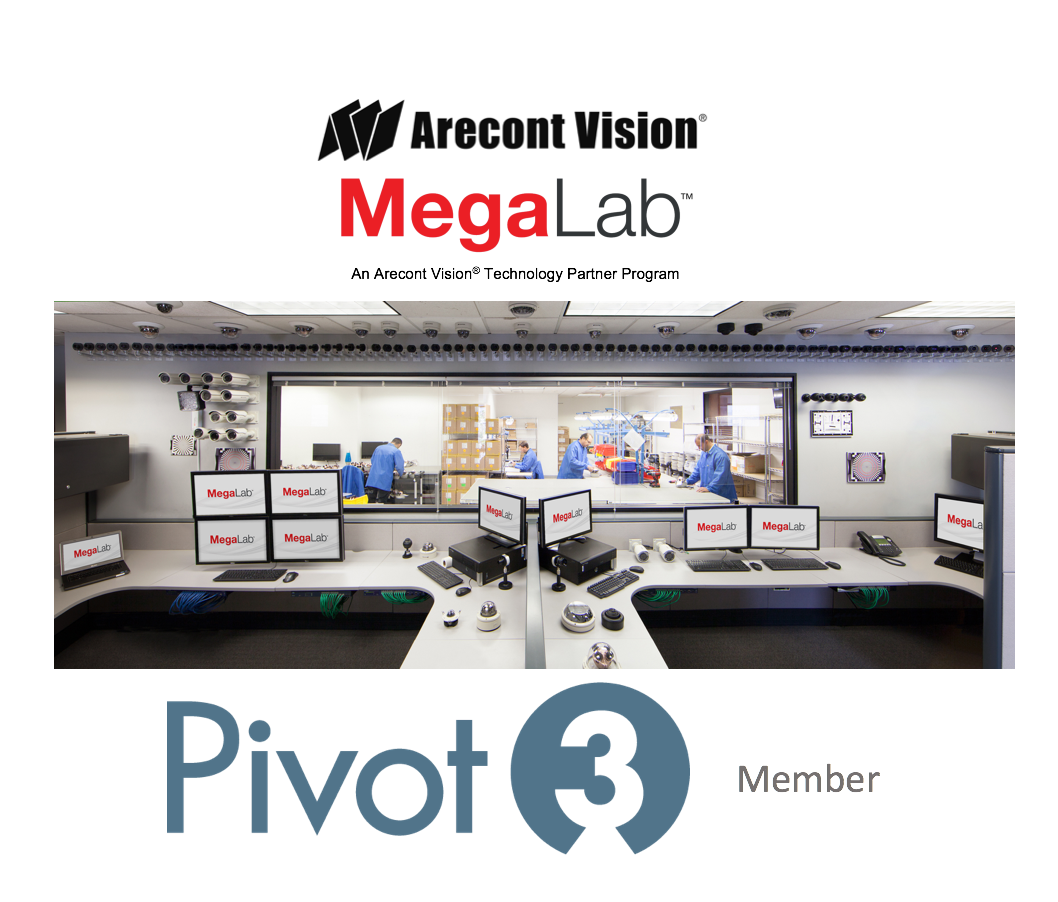 Los Angeles, CA (November 27, 2017) – Arecont Vision®, the industry leader in IP-based megapixel camera technology, has announced that Pivot3, the technology leader in hyperconverged infrastructure (HCI) solutions, has joined the Arecont Vision Technology Partner Program™. Pivot3 HCI products will be available for testing in the Arecont Vision MegaLab™ integration facility as part of the new agreement.
"We are honored to be part of the Arecont Vision Technology Partner Program," said Brandon Reich, General Manager, Surveillance, Pivot3. "With Arecont Vision, we gain a strong partner within the megapixel video surveillance industry that produces high quality camera products that will benefit Pivot3's rapidly growing customer base."
Pivot3 HCI platforms offer software-defined SAN storage and server infrastructure in cost-effective, off-the-shelf server hardware. Purpose-built for demanding, data-intensive video surveillance workloads, Pivot3 provides the highest levels of performance, resiliency, and availability so that critical video surveillance data is stored without loss, protected from any failures, and always available when and where it is needed most.
"The innovations that Pivot3 has developed around hyperconvergence complement the megapixel camera technology leadership that Arecont Vision continues to bring to the surveillance industry," said Jeff Whitney, Vice President, Marketing, Arecont Vision. "Our customers benefit from innovative, reliable, and cyber-secure Arecont Vision cameras, and are often in a search for a resilient, enterprise-class infrastructure to get the most out of their video surveillance systems. Like Arecont Vision, Pivot3 is easy to manage, simple to deploy and scale, and is designed to handle the requirements of today's modern video surveillance technologies."
Through the Arecont Vision Technology Partner Program, sales, development, and support contacts are established between the two companies to better engage with end user customers and systems integrators, validate integration of new features and technologies, and quickly resolve any customer support issues.
# # #
ABOUT ARECONT VISION
Arecont Vision is the leading manufacturer of high-performance megapixel IP cameras. Arecont Vision products are made in the USA. MegaVideo® and SurroundVideo® massively parallel image processing architectures are now in their 5th generation and represent a drastic departure from traditional analog and network camera designs.
ABOUT PIVOT3
Pivot3 improves the simplicity and economics of the enterprise datacenter with industry-leading hyperconverged infrastructure technology. By combining storage, compute, and networking on commodity hardware, Pivot3's software-defined platforms let IT run multiple, mixed workloads on a single infrastructure while guaranteeing performance to the applications that matter most. Pivot3's agile infrastructure solutions extend performance, scale and efficiency across more of the datacenter so organizations can adapt to modern business demands. With over 2,000 customers in 54 countries, and 18,000 deployments in multiple industries such as healthcare, government, transportation, security, entertainment, education, gaming and retail, Pivot3 is redefining HCI with smarter infrastructure solutions.
EDITORIAL CONTACT
Jeff Whitney / VP Marketing / Arecont Vision
Phone: +1.818.937.0700 #477
E-mail: [email protected]