Arecont Vision Introduces the World's First Eight Megapixel 360° SurroundVideo® IP Camera System
---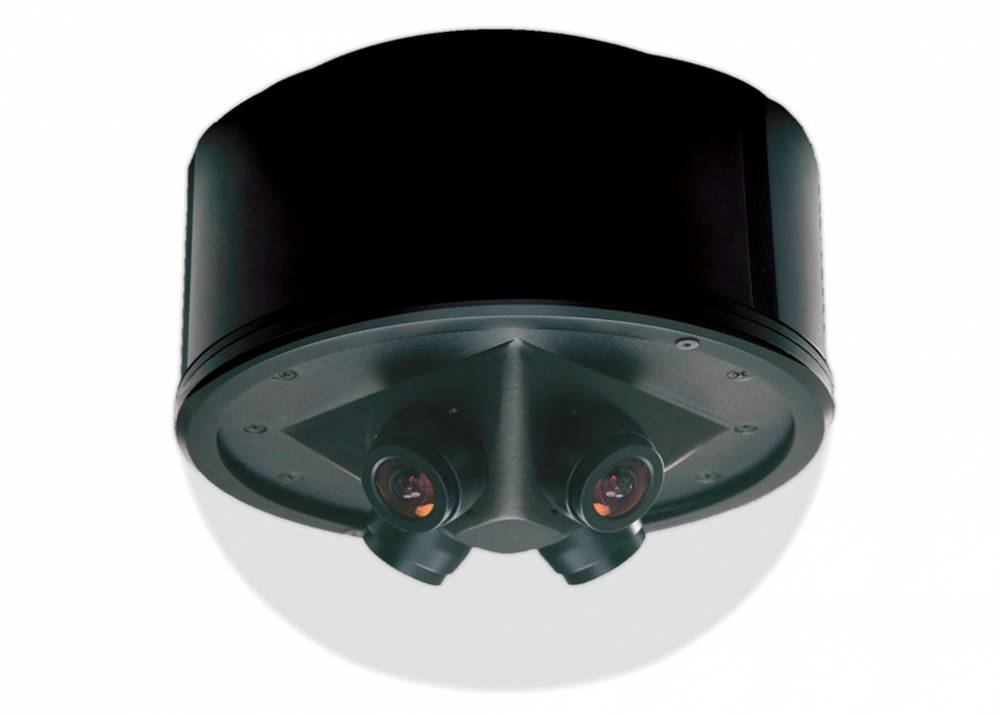 Arecont Vision Introduces the World's First Eight Megapixel 
3600 SurroundVideo® IP Camera System



New quad-sensor camera enables high definition panoramic video at 22 frames per second per channel to meet the 
challenges of the most demanding surveillance applications


IFSEC, BIRMINGHAM, UK--(BUSINESS WIRE)—May 09, 2006-- Today, Arecont Vision, the leading developer of high-resolution video surveillance cameras systems, announces the world's first 8 Megapixel quad-sensor
panoramic network camera system, AV8360. Priced at $995 in low volumes, including lenses, AV8360 can operate at full motion frame rates to allow real-time high definition 3600 panoramic video surveillance.


The AV8360 camera is based on proprietary SurroundVideo® technology and offers panoramic views and cinema compatible high frame rates to allow real-time high definition 3600 video surveillance with 24 times the resolution of
the best analog surveillance cameras. AV8360 utilizes four 2 Megapixel sensors and allows concurrent transmission of zoomed and full field of view video streams, providing full-motion video and instantaneous 3600 electronic pan, tilt and zoom (PTZ) capability. SurroundVideo® technology builds-up on Arecont Vision standard MegaVideo® architecture enabling 8-megapixel 3600 camera at price points that are significantly lower than single-sensor Megapixel 3600 IP cameras currently available on the market.


"High definition 3600 video cameras enable superb area coverage and provide no-moving-parts instantaneous PTZ for mission-critical applications. In recent years, a number of excellent 2 and 3 Megapixel panoramic surveillance
cameras utilizing "fish-eye" optics have become very popular in high-end surveillance market. However, existing panoramic cameras, that "spread" pixels from the single sensor over an entire semi-sphere, deliver significantly
lower video resolution per unit viewing angle than is typical for conventional non-panoramic NTSC and PAL cameras. We have addressed this problem by utilizing four 2 Megapixel sensors in one camera, enabling 3600 coverage without compromising the ability to resolve scene detail.

Furthermore, our solution allows 4 sensors to share single high-performance massively-parallel image processing unit, resulting in just an incremental price increase as compared with our standard high-definition cameras. This is the first such product in the market, and is a demonstration of the capabilities of our proven technologies", said Steven Sarfati, VP of Sales at Arecont Vision.


This camera features Power-over-Ethernet capability and is offered with 4 high-quality lenses enclosed in 6" dome, providing an efficient replacement for up to conventional 24 NTSC dome cameras. It will be in volume production in Q2.


AV8360 complements an existing line of MegaVideo® surveillance products. This product line also includes 1.3 Megapixel AV1300 operating at 30 frames per second, 2 Megapixel AV2100 operating at 24 frames per second, 3
Megapixel AV3100 operating at 20 frames per second, 5 Megapixel AV5100 at 15 frames per second and the world's first 3/1.3 Megapixel dual-sensor DayNightTM camera AV3130.


###



About Arecont Vision


Arecont Vision, LLC is a privately-held multi-national technology company headquartered in Altadena, CA. Arecont Vision develops and manufactures high-resolution digital video systems, cameras and associated system-level 
software. Company website is located at www.arecontvision.com.