Arecont Vision ConteraIP™ Multi-Sensor Camera Named 2018 Campus Safety BEST Winner
---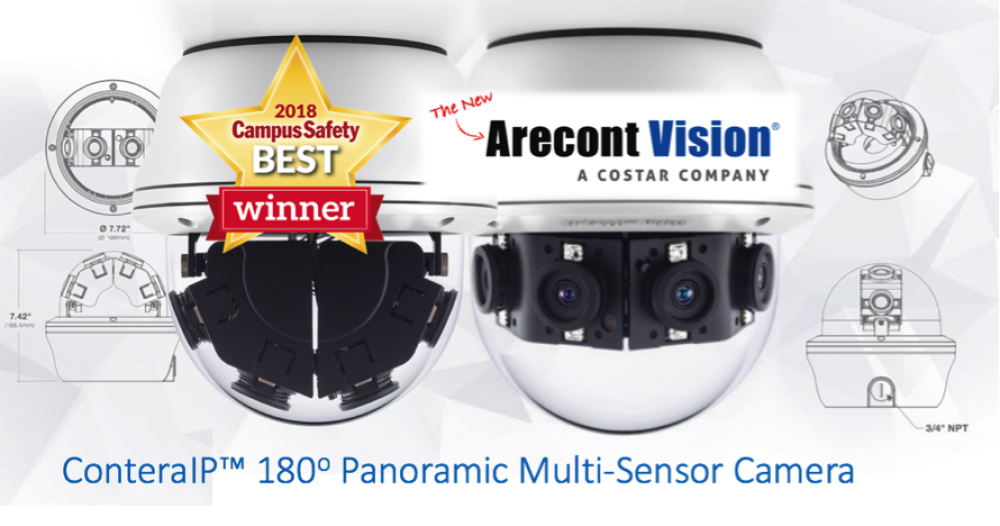 Los Angeles, CA (October 8, 2018) – Arecont Vision Costar, the industry leader in IP-based megapixel camera technology and video surveillance solutions, announces that the ConteraIP™ multi-sensor panoramic dome camera is the recipient of an important security industry award. The new camera has been recognized as a 2018 Campus Safety BEST winner in the "CCTV Surveillance Hardware" category.
The ConteraIP multi-sensor panoramic camera offers a choice of 8 or 20MP (megapixel) dome configurations. It is ideal for schools, colleges, and healthcare providers as the camera provides a panoramic 180o view from a single, affordable, high performance dome unit. It delivers superior, non-stop situational awareness while reducing the number of cameras and cabling required. This reduces the cost to buy, install, and maintain a modern surveillance system, while being less overt by having fewer cameras deployed.
Campus Safety Magazine, honoring superior products and services for hospital, school, and university protection professionals, announced the winners of the 2018 Campus Safety BEST Awards on October 5, 2018, including Arecont Vision Costar. The awards recognize superlative security, law enforcement, emergency management, and safety solutions for K-12 institutions, universities, and healthcare organizations.
"Campus Safety Magazine takes pride in focusing on content that helps protection professionals in the healthcare and education markets keep their students, teachers, patients, visitors, and campuses safe and secure," stated Robin Hattersley Gray, executive editor of Campus Safety.
Entries were judged on all aspects involved such as innovation, functionality, and benefits to the installer, according to Campus Safety.
"This is an exciting day for Arecont Vision Costar," stated Jeff Whitney, Vice President, Marketing, Arecont Vision Costar. "Education and healthcare are extremely important vertical markets for our company with customers around the world, and we are very pleased to see recognition for our newest multi-sensor camera from professionals in these areas."
The new, award-winning four-sensor camera is a highly advanced indoor/outdoor 180o panoramic dome, suitable for day/night use.
- Choice of 8 or 20MP configurations
- Integrated IR LED illuminators and NightView™ low light color imaging technology for low light enhancement
- Enhanced WDR up to 120dB for use in challenging lighting conditions
- Multi-streaming at high frame rates
- H.265, SNAPstream+™ bandwidth reduction, and M-JPEG
- Industry-standard security and network protocol support
- Defog technology
- On Screen Display
- IP66 environmental and IK10 impact rated
- All-in-One PoE+, requiring single IP address, single IP cable, and single VMS license per camera (most VMS/NVR systems)
The camera previously was recognized with a Security Today New Product of Year Award at GSX Las Vegas last month.
Learn more about the new ConteraIP megapixel single- and multi-sensor camera series here - https://tinyurl.com/y73lkdr8 - or about the Arecont Vision Costar Total Video Solution here - https://tinyurl.com/ya4sqs3w.
# # #
ABOUT ARECONT VISION COSTAR
Arecont Vision Costar, LLC, a Costar Technologies, Inc. company (OTC Markets Group: CSTI), is the leading US-based manufacturer of high-performance IP cameras and video surveillance solutions. The company offers two complete megapixel camera families – the MegaIP™ series includes Made in USA, cyber-secure MicroBullet®, MicroDome®, MegaBall®, MegaDome®, MegaVideo®, MegaView®, and SurroundVideo® models, plus the world-class ConteraIP™ series dome and bullet models. Both camera families offer single- and multi-sensor choices that are integrated with the ConteraVMS™ (video management system), ConteraWS™ (web services), and the ConteraCMR™ (cloud-managed video recorder) series for traditional or cloud-based video surveillance solutions as part of the Total Video Solution.
Arecont Vision Costar supports integration with leading 3rd party products through the Arecont Vision MegaLab™ and via ONVIF compliance.
CAUTIONARY ADVISORY REGARDING FORWARD-LOOKING STATEMENTS
You should not place undue reliance on any forward-looking statements contained in this press release. The Company assumes no obligation to update forward-looking statements to reflect actual results, changes in assumptions, or changes in other factors affecting forward-looking information, except to the extent required by applicable laws.
EDITORIAL CONTACT
Jeff Whitney / VP Marketing / Arecont Vision Costar
Phone: +1.818.937.0477
E-mail: [email protected]