Arecont Vision Adds New D4S and D4F Series of 4 Inch All-in-One Indoor MegaVideo® Dome
---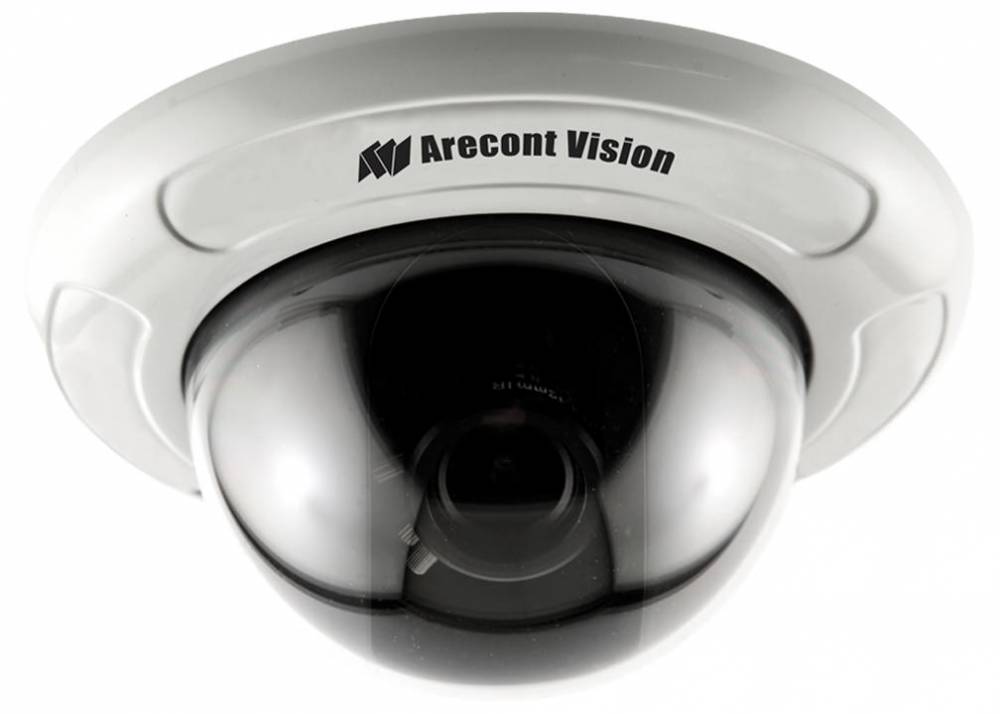 Las Vegas, NV (April 6, 2011) - Arecont Vision is displaying their new D4S and D4F Series of 4-inch indoor megapixel dome cameras here at ISC West. The all-in-one indoor solutions include Arecont Vision 1.3 megapixel 1080p, 3 megapixel or 5-megapixel compact cameras in surface-mount or in-ceiling-mount dome housings with 3.3-12mm varifocal IR-corrected lenses. Available in color or day/night versions, each 4-inch dome also includes all the features of Arecont Vision's compact megapixel box camera line. The new D4 indoor dome cameras further expand the industry's largest line of megapixel camera solutions available from Arecont Vision.

The D4S is the new surface-mount 4-inch dome solution, and the D4F is the same camera in an in-ceiling mount configuration. Each D4S and D4F indoor camera is easy to install and features an adjustable 2-axis gimbal to provide 360-degree pan and 70-degree tilt adjustment.

"Our new MegaVideo® D4S and D4F Series dome camera solutions provide a significantly lower cost indoor option that delivers the same superior megapixel image quality that Arecont Vision is known for," said Dr. Michael Kaplinsky, CEO, Arecont Vision. "Given the flexibility and simple installation of these models, we expect them to be quickly embraced by security professionals for a wide variety of indoor applications. The D4 Series presents a great value with megapixel performance that is very competitive with lower-cost imports and even analog cameras."
The 1.3-megapixel models in the D4 line provide 1,280 x 1,204-pixel images at 32 fps, while the 1080p models provide 1,920 x 1,080-pixel resolution at 30 fps. The 3-megapixel model 4-inch domes provide 2,048 x 1,536-pixel images at 20 fps, and the 5-megapixel models provide 2,592 x 1,944-pixel images at 14 fps.
The new Arecont Vision 4-inch dome camera solutions also provide added functionality. The privacy mask enables video to be blocked in multiple regions in any arbitrary shape.
Extended motion detection provides a higher-granularity grid of 1,024 distinct motion detection zones. Flexible cropping provides even more adjustability in image sizes. Forensic zooming allows close-up views of any region of interest, even on archived video. The day/night version includes a motorized infrared (IR) cut filter. All D4-Series camera solutions can be powered with either PoE or 12-48V DC/AC power supplies.
For more information contact Arecont Vision by calling toll free 1-877-CAMERA-8, or visiting www.arecontvision.com.
About Arecont Vision
Arecont Vision is the leading manufacturer of high-performance megapixel IP cameras and associated software. Arecont Vision products are made in the USA and feature low-cost massively parallel image processing architectures MegaVideo® and SurroundVideo® that represent a drastic departure from traditional analog and network camera designs. All-in-one products such as MegaDome® and MegaView™ provide installer-friendly solutions. Compact JPEG and H.264 series of cameras address cost-sensitive applications. These innovative technologies enable Arecont Vision to deliver multi-megapixel digital video at IP VGA camera price points.